Pilates Inspection & Servicing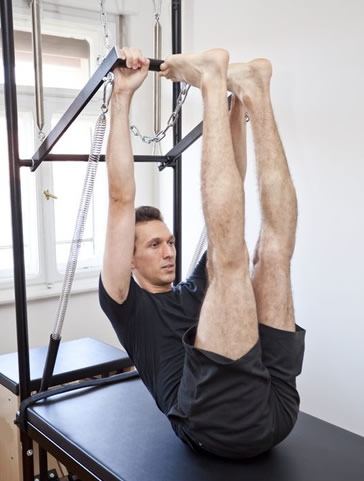 Pilates creates almost magical results! Pretty basic, common sense stuff when you look at it – but it took the amazing approach by Joseph Pilates working with injured service personnel and another 50 odd years for most of us to become aware!!
That's enough of the prosaic stuff!
If you have Pilate's equipment – you'll know what you're about, and you really don't need a load of engineers telling you how brilliant Pilates is!!
However, you will need us coming along to inspect your equipment.
We can't take a class, but we understand how your equipment works, and how important it is that it works in harmony with your client and their movement.
By regularly inspecting your equipment you offer clients the best possibly experience in your studio.
We understand spring, tracking and rope systems and how these elements of your machines impact upon the end user, and your reputation.
And we also understand how personal these pieces of equipment are to you – how they take on their own personality and character in use!
We understand how these things work!!
Reformers, Trapeze Reformers, Chair, Barrel, Cadillacs
Any configuration, any machine?
What do we inspect/service?
Springs
Springs will be a regular part of your routine of checks, but we will check spring rates for uniformity and rating in use, fatigue, separation of coils and nicks/abrasions.
We will recommend a schedule of spring replacement based on client usage and factor this in any suggested course of action before the visit.
Tracking Systems
The carriage tracking wheels and bearings will be checked for excess play and adjusted as necessary, tracks will be cleaned to facilitate smooth running throughout the range of the carriage and build-up of debris will be cleared from the wheel axles.
Foot Bars, Fittings & Frame
We will tune up foot bars and adjust all frame fittings for integrity and pivoting resistance where necessary.
Pulley Systems & Ropes
The rope systems will naturally fray with use and this is completely normal, we will judge how long ropes are likely to last and recommend replacement schedules as appropriate.
Any tears or breaking of weave will be identified and replacement advised. 
Swivel pulleys and hardware do wear, and while hardy in day to day use, like springs, they will require periodic replacement. We will make judgement and recommend replacement schedules.
Leather Straps, Wooden Frame & Upholstery
All straps, frame and upholstery will be checked for safety, wear and integrity/comfort in use. Any issues will be highlighted and/or dealt with as required.
Upholstery will be cleaned and sanitised, leather straps will be conditioned and the wooden frame cleaned and sanitised.
How Often?
We will always talk things through and make recommendations based on your situation, but the following will provide a guide to how often we recommend your equipment should be inspected:
| | | |
| --- | --- | --- |
| Client usage per machine per week | Recommended Service Visit | Recommended Spring Replacement |
| 1 to 10 | Every 6 to 8 months | Every 2 years |
| 10 to 20 | Every 4 to 6 months | Every 12 to 18 months |
| 20 plus | Every 3 months | Every 6 to 12 months |
What will it Cost?
We will work out the best option for you and provide you with a programme and fixed price – you always stay in control.
Every client is different, but typically the following pricing will apply:
£225 plus VAT for up to 5 machines
£475 plus VAT for up to 20 machines
(Extra machines can be added to either option for £20 plus VAT each)
(Spring, parts replacement and/or repairs will be charged in addition to the above prices)
Contact us now on 0121 663 0787 or fill in the online form to book your inspection or service.
We'll contact you to discuss the best option.
And if you have any questions – just ask!