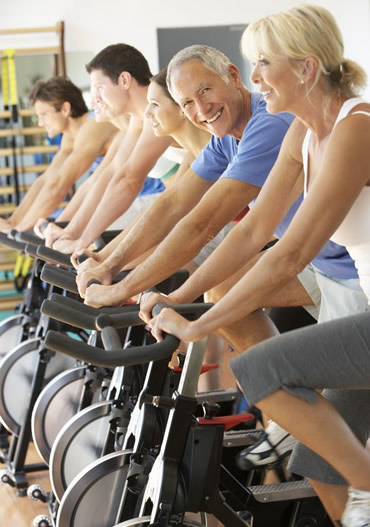 Spin Bikes are an excellent way for your members to exercise and lose weight!
Those spinning classes are eye watering, punishing workouts which place the member and bike under an extreme regime in every session!
So it is really important to ensure your Spin Bikes are always operating at peak performance.
Although at first glance a spin bike appears a fairly simple piece of kit, they are built to withstand extremes of load and torque in use.
In a typical spin class the bike will be asked to perform a variety of functions from forward and rear pedal motion, standing pedal exercises and flat out races - all the time under varying levels of flywheel resistance!
These demands place all components of the bike under high stress levels - and it is for this reason that it is important to have spin-bikes regularly inspected and serviced.
What are the benefits to the Gym Owner?
You identify any issues well before they become a problem. Spin bikes need regular checks to ensure their safety. Pedals, pedal arms, cranks and bearings all experience much higher levels of stress than some other equipment. Identifying issues early on safeguards you and your members!
Your equipment stays safe and you exhibit due diligence and compliance with HSE recommendations in the day to day running of your facility.
Finally, all of your Spin bikes run at the peak performance. This means your clients get the most from their training and place real value on their membership at your facility.
How Coopal's Spin Bike inspection and service works?
Your appointed Coopal engineer will complete safety and functionality checks to each spin-bike in your facility, making adjustments as necessary.
The following is an abbreviated list:
Check frame & structural integrity
Check and clean seat/handlebar adjusters and lock pins
Check and torque all fixings
Check all bearings for play and correct setup
Check & adjust brake mechanism
Check bottom bracket integrity, pedal sprocket/drive, pedal arms and chain/belt for wear and play, (adjust as necessary)
Check pedals/straps for wear
Check saddle and mount
Check frame levelling feet and wheels
Lubricate where necessary
Clean and sanitise
Download a full checklist here
These checks will take approximately 20 to 30 minutes per bike.
Your engineer will complete a report for each bike, and make any recommendations for rectification work required.
Your engineer will apply an inspection label to your spin bike which shows the machine id, current and next inspection date. You will be provided with an electronic copy of the report, a certificate of inspection to display and a rectification programme (if necessary).
Your engineer will also provide you with a programme of visual checks you can complete yourself to ensure you identify issues as they occur between inspection visits.
What do I do next? How much will it cost?
First of all don't worry!
Coopal are here to help – it's what we do!
We will work out the best option and provide you with a programme and fixed price - you always stay in control.
Every client is different, but typically the following pricing will apply:
Spin Bike Inspections
£245 plus VAT for up to 10 bikes
 (Extra machines can be added for £20 plus VAT each)
Contact us now on 0121 663 0787 or fill in the online form to book your service.
We'll contact you to discuss the best option.
And if you have any questions – just ask!