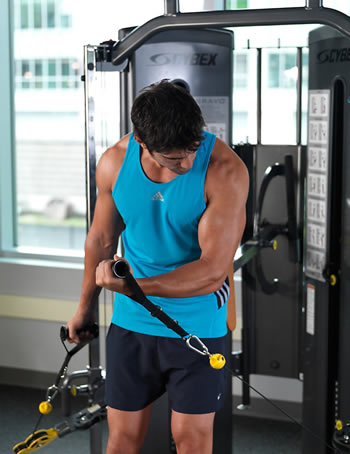 Coopal Care has been developed to help you show your members that you care about their training and safety at your facility!
This is because:
They know that you are regularly carrying out thorough safety and functionality checks to the machines they use – identifying any issues well before they become a problem.
You take their Health & Safety seriously and show due diligence and compliance with HSE recommendations in the day to day running of your facility.
Finally, and perhaps most importantly, all of your machines run at the peak of their capabilities. This means your clients get the most from their training and place real value on their membership at your facility.
This is important because:
You attract and retain current members! You will stand out from other facilities and improve profitability!
So how does Coopal Care work, and what do Coopal do?
Coopal's primary remit is to listen to, understand and build a relationship with you!
This may sound an obvious cliché, but this will underpin everything we do moving forward! We want to become a valued and integral part of your business for years to come.
To do this, Coopal needs to appreciate exactly what you and your members need so that we can build a programme of inspection and servicing that perfectly matches requirements.
Coopal understands that your facility is unique, with your own preferred equipment, training focus and membership requirements.
Coopal may recommend annual, bi-annual, quarterly or even monthly visits depending on your situation, which may include a combination of inspection and/or servicing.
The Coopal Care programme is tailored specifically to the unique features of your business so you get the best value and service for every pound you spend. The programme can include any combination of the following services:
Gym Equipment Repair
Gym Equipment Inspection
Gym Equipment Servicing
Gym Equipment Service Contracts
What's important is that there are no nasty surprises or open ended hourly rates. You know exactly where you are and stay in control!
Gym Equipment Repair
We can undertake individual repairs as required on an ad hoc basis as and when they arise.
We normally suggest a diagnostic visit first, (priced from £69 plus VAT).
We'll quickly establish what's wrong and work out the best way forward for you.
Gym Equipment Inspection
The primary function of a machine inspection is to answer 3 key questions:
Is the machine safe to use and suitable to its application?
Is it functioning and performing correctly?
Are there any rectifications necessary?
To reach a point where the engineer can answer these questions requires approximately 15 to 20 minutes and will involve removing or opening the case of the machine. The engineer will complete basic checks and perform any minor adjustments or lubrication necessary. The engineer will also provide a detailed report making any recommendations for further work or rectifications necessary.
The engineer will apply an inspection label to your machine which shows the machine id, current inspection date and next inspection date. You will be provided with an electronic copy of the report, a certificate of inspection to display and a rectification programme (if necessary).
A full inspection checklist example can be viewed here.
Completing the inspection means that you have a full understanding of your equipment condition and you can make informed decisions moving forward!
Gym Equipment Servicing
As with the inspection, the engineer will be keen to ensure that your machine is safe and functioning correctly, this initial part of the service will take approximately 15 to 20 minutes.
If it is clear that major issues are present at this stage the engineer would discuss these with you before proceeding further.
Assuming that the machine passes this initial safety and functionality assessment your engineer will proceed to strip and service the machine.
This will involve following a pre-determined checklist which will involve:
Checking frame and structural integrity
Cleaning and lubricating individual components
Vacuum and cleaning all internals of the machine
Checking all electrical circuits
Cleaning and testing condition of electrical components, (alternators / motors / electrical PCB's)
Calibrating and adjusting your machine so that it runs at peak performance
Sanitising exterior of machine
This is an abbreviated list – a full checklist example can be seen here.
Depending on the machine type the service will take 1.5 to 2 hours to complete.
Once complete, the engineer will discuss the service with you, prepare a service report for your records and apply an inspection label to your machine which shows the machine id, current service and next service date. You will be provided with an electronic copy of the service report.
Gym Equipment Service Contracts
Coopal care can design a bespoke package to include all of the services we offer for a simple, pre-arranged monthly fee.
We discuss your equipment inventory and membership expectations which allows us to recommend the most cost effective way for you to manage this part of your business.
We take all responsibility and are just a phone call away when you need us!
What do I do next? How much will it cost?
First of all don't worry!
Coopal are here to help – it's what we do!
We will work out the best option and provide you with a programme and fixed price - you always stay in control.
Every client is different, but typically the following pricing will apply:
Gym Equipment Repairs
Repair prices will depend on what is required, but we always quote a fixed price so you have complete control.
Prices for our Diagnostic service start from £69 plus VAT. (see our diagnostics page)
Gym Equipment Inspections
£225 plus VAT for up to 5 machines
£475 plus VAT for up to 20 machines
(Extra machines can be added to either option for £20 plus VAT each)
Gym Equipment Servicing
This is usually priced on an item basis at £135 plus VAT per machine
We are also happy to quote on an inventory basis.
Gym Equipment Service Contracts
This a completely bespoke option.
We discuss your requirements and formulate a programme structured around your facility.
You can pay per visit or monthly – it's up to you!
Contact us now on 0121 663 0787 or fill in the online form to book your inspection or service.
We'll contact you to discuss the best option.
And if you have any questions – just ask!